Videos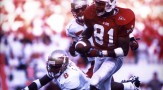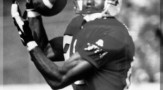 ---
Galleries
Photos From The Archive
KidsCAN!
Since he was a kid, Torry Holt enjoyed being around the game of football. "Football is the ultimate team sport. You have to be committed, unselfish and determined to improve."
He likes to share that wisdom with kids who attend the Holt Brothers Football Camp. But it was also the way he approached the game, resulting in his recent nomination to the National Football League Hall of Fame.
Top NFL Producer
Torry was the sixth overall pick by the St. Louis Rams in the 1999 NFL Draft, winning the Super Bowl in his rookie year. He is the only receiver in NFL history to record 1,300 or more yards in six consecutive seasons.
Torry and his Ram teammates were called the "Greatest Show on Turf" because of their offensive prowess, essentially changing the game of football with their fast-paced playmaking. Current NFL teams have adopted this style of play, with high-scoring offenses that appeal to the NFL fan base.
Young Star
Torry was a wide received at NC State University from 1995 to 1998, shattering the record books … so much so that he was named to the NC State Hall of Fame in 2014.
During his senior year at NC State, Torry was a first-team All-American and was named ACC Offensive Player of the Year. He had 88 receptions for 1,604 yards, and a record number of touchdowns for NC State with 16. During his junior year, he set Wolfpack season records with 62 receptions for 1,099 yards, becoming the first player in team history to gain more than 1,000 yards in a season.
In high school, Torry was a Prep Football Report All-American selection, adding all-state honors at Eastern Guilford High School. During his senior year, he was named one of the Top 25 footbal players in the state by the Charlotte Observer.
Giving Back
Aside from his successful football career, Torry is known for giving back to the community. When he joined the NFL, Torry started what is now the Holt Brothers Foundation in honor of his mother, who passed away after a 10-year battle with cancer. The Foundation focuses on children who have a parent with cancer.
Torry is also passionate about helping kids reach their full potential. Through the Holt Brothers Football Camps, he teaches life lessons and offers young people advice on how to be successful on and off the field.
"It's about more than football. It's also about being a good person, honoring your family, friends and yourself by being the best you can be," says Torry.